Welcome From The Chair
Rainu Kaushal, M.D., M.P.H.
Professor and Chair
The Department of Healthcare Policy & Research, formerly Public Health, concentrates on studying and improving healthcare delivery to optimize the value of healthcare for patients in New York and across the country. It is chaired by Dr. Rainu Kaushal, an expert in healthcare quality, patient safety and information technology.
Read More
Jessica Ancker, PhD, MPH, Named Editor of New eGEMs Section on Patient-Centered Clinical Decision Support
The Patient-Centered Clinical Decision Support Learning Network is pleased to announce Jessica S Ancker, Ph.D., M.P.H. as the editor of a new special section in AcademyHealth's peer-reviewed open access journal eGEMs. Ancker is associate professor of healthcare policy & research at Weill Cornell Medicine, within the division of health informatics. Ancker's expertise in facilitating good decisions through health information technology makes her the perfect editor for eGEMs' new section called Better Decisions Together: Decision Support for Patient-Centered Healthcare.
Read more here.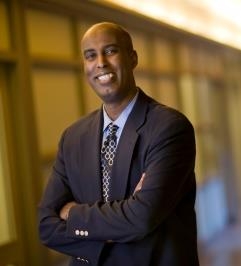 Dr. Said Ibrahim Named Chief of New Division of Healthcare Delivery Science and Innovation
Dr. Said Ibrahim, a leading physician-scientist whose research focuses on healthcare disparities, has been named the inaugural chief of the newly established Division of Healthcare Delivery Science and Innovation in the Department of Healthcare Policy and Research at Weill Cornell Medicine, effective Feb. 1. Dr. Ibrahim will also serve as the department's vice chair for development and strategy.
The Division of Healthcare Delivery Science and Innovation will spearhead the development, implementation and evaluation of patient-focused clinical innovations, seeking to improve both quality and equity of healthcare delivery across diverse populations. Initiatives may focus on enhancing patient safety, improving population health through accountable care organizations, and increasing healthcare access and efficiency through technological advancements such as remote patient monitoring and electronic prescribing programs. The division will also house the Executive MBA/MS Healthcare Leadership Program, which Weill Cornell Medicine and the Samuel Curtis Johnson Graduate School of Management at Cornell University established in 2016. The two-year, dual-degree program will provide the next generation of healthcare leaders with the requisite skills to tackle changes in healthcare systems' structure, payment and regulatory requirements.
Read more here
Social Preferences of Future Physicians
In a recent publication, Dr. Jing Li, Assistant Professor of Health Policy and Economics in the department of Healthcare Policy and Research, and Drs. William Dow and Shachar Kariv from UC Berkeley's departments of Public Health and Economics, measured the social preferences of current US medical students in an effort to understand how such preferences influence the healthcare decision making of future physicians.
Read more here.
Podcast: Unconditional cash transfers for reducing poverty: effect on health services use and health outcomes in low- and middle-income countries
Most Cochrane Reviews examine the effects of healthcare interventions, but some look at other aspects of healthcare systems, such as how to help people access health services. In a new review in November 2017, a team of university researchers from Canada, Germany, India, New Zealand and the United States examine the possible role for unconditional cash transfers. One of the team, Sze Yan Liu from Weill Medical College at Cornell University in the US, tells us what they found in this podcast.
Listen here.
The Unhealthy Politics of Pork: How It Increases Your Medical Costs
No industry in America spends more on lobbying than health care.

In 2016, the health care industry spent half a billion dollars on lobbying, with pharmaceutical companies, hospitals and health professionals making the largest contributions. In 2009, the year the Affordable Care Act was debated, health care lobbying exceeded $550 million. (Last year, by comparison, defense lobbying totaled $129 million, and the gun lobby spent just $10.5 million.)

Closely related to industry lobbying is the political maneuvering that congressional leaders use in an effort to pass legislation — specifically, targeted provisions known as earmarks, "sweeteners" or pork barrel spending.

Read more from Dr. Dhruv Khullar's recent NYTimes post here.
Exposure to pollutants from oil and gar fracking sites linked to brain health problems in children
Multiple pollutants found in the air and water near fracked oil and gas sites are linked to brain problems in children, according to a science review recently published today.

Researchers focused on five types of pollution commonly found near the sites—heavy metals, particulate matter, polycyclic aromatic hydrobcarbons, BTEX and endocrine disrupting compounds—and scrutinized existing health studies of the compounds' impacts to kids' brains.

What they didn't find is as important as what they did find: while more than 1,000 studies have looked at health hazards from unconventional oil and gas drilling, none have focused specifically on the brain health of children near the sites.

"Many of us looking are looking at what's happening now and then we're going to revisit this to see what these exposures are doing to people," said Madelon Finkel, a professor of clinical healthcare policy and research at Weill Cornell Medical College who was not involved in the study.

Read more here.
The High Price of Failing America's Costliest Patients
Even patients with whom I have the best rapport would probably rather not see me so often.
Sometimes I readmit a patient I cared for just weeks before in the hospital. "Nice to see you again," I offer with a smile. The usual response, loosely paraphrased: I'd rather be anywhere else.
This reflects not some deep deficiency in my bedside manner (I think), but rather an essential truth about medicine: People want health, not health care. And those who require the most health care and get the least health — high-need, high-cost patients with multiple or severe medical conditions — feel this most acutely.
Read more here.
Follow @WCMhpr
Upcoming M.S. Webinars
Join us for an upcoming morning, lunchtime, afternoon, or evening webinar to learn more about all of our programs!
Apply for our graduate education programs today!
The Department trains the next generation of leading researchers and practitioners through our programs in health informatics, health policy and economics, and health analaytics.
Application Deadline: April 06, 2018
Preventive Medicine RIPS
First and third Tuesday of every month
C2 Conference Room
402 East 67th Street
New York, NY 10063
NIH All of Us Research Program
The All of Us Research Program is a historic effort to collect data from one million or more people living in the United States to accelerate research and improve health, building one of the largest health databases. By taking into account individual differences in lifestyle, environment, and biology, researchers will develop precise medicine and treatment paths catered to you. This is a collaborative consortium project in partnership with NewYork-Presbyterian, Columbia University Medical Center, and Harlem Hospital.
NYC-CDRN Receives Funding for Phase II Work
The NYC-CDRN has been approved for a three-year, $8.5 million funding award by the Patient-Centered Outcomes Research Institute (PCORI) as part of the second phase of the development of the National Patient-Centered Clinical Research Network.
CHERISH is a multi-institutional Center of Excellence, funded by the National Institute on Drug Abuse. The Center's mission is to develop and disseminate health economic research on healthcare utilization, health outcomes, and health-related behaviors that informs substance use disorder treatment policy and HCV and HIV care of substance users. The Center is a collaboration among Weill Cornell Medicine, Boston Medical Center, the University of Pennsylvania, and the University of Miami Miller School of Medicine.
MDEpinet
MDEpiNet is a global effort bringing together all parts of the medical device ecosystem to build a national medical device evaluation system. As a Public Private partnership, MDEpiNet is working to improve and integrate real-world data infrastructure, develop appropriate methodologies, and conduct studies to improve patient-centered outcomes for medical devices around the world.